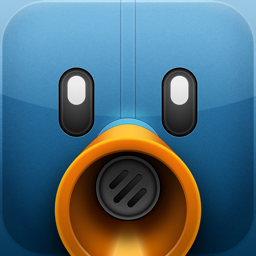 One of my favourite applications has just now been rewritten for IOS and it is ready for download. The iPhone version of Tweetbot has been rewritten from the ground up to make use of IOS 7's architecture. In this MacRumours article they detail the specifics around the new iPhone app for IOS 7. I've found it to be an excellent upgrade and although slightly different in operation than the previous app, it took me no time to get onto Tweetbot for IOS 7's swifter commands to invoke things. I'd highly recommend this upgrade.
iPad version is still in the Works
The iPad version of Tweetbot for IOS 7 is still under development. The current application has been taken down from the store. As MacRumours points out "A revamped Tweetbot for the iPad is still in the works, and the existing Tweetbot app has been removed from the App Store".
I would expect the IOS 7 version of Tweetbot is not very far from hand. My personal feeling is Tweetbot is the best Twitter client on the market. I would get your hands on these as soon as possible. Twitter only allots so many third party tokens for use on the Twitter network meaning only so many people can be running Tweetbot. Don't be one of those left without one.